The ministry of John & Bron Fergusson
© JF Ministries, Auckland, New Zealand. Registered charity in England and NZ.
Heal the Sick!
Jesus commanded ALL his disciples to heal the sick. But
we can't! That is both the problem and the point!
Healing is supernatural - half super and half natural.
We need Jesus, but he also needs us. Clear, Biblical and
practical this shows how Christian believers can and
should heal the sick.
It's our job description! 175 pages.
Shop
Exciting aids to help you extend the Kingdom of God
(Prices in NZ$.
Shipping for New Zealand only.
If you live elsewhere, order from Amazon or
email us
.)
Ministry and Prayer
are different!
People have been healed
translating it, others just by
reading it.
If you do what it says,
people WILL be healed!
Free pdf download
Portuguese version
Heal the Sick!
A full teaching on healing
including great testimonies.
Also available on Amazon
and
Kindle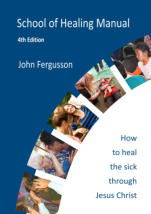 School of Healing on DVD
3 DVDs
with 5 sessions. Watch people being
healed, and then go and do the same! We've taught
hundreds of schools and seen tens of thousands
healed. God is faithful to his word!
Titles
: The God who heals, What is Healing,
Authority, How we are healed, Deliverance. Ideal
for church, or home groups.
School of Healing
Hurry! When the last few are
gone, we won't be making any
more DVDs.
OUR BEST SELLER
Only a few left!
The WHOLE Bible becomes
exciting and relevant.
People buy one, then ten for
their friends. 'Life changing!'
Rainbow Bible Guide (
more
)
A revolutionary system to transform your
personal Bible study! The Bible has 7 types of
literature, there are 7 days of the week, and 7
colours of the rainbow!
So you read from a different part of the
Bible each day, using coloured ribbons.

Authority
'Most comprehensive', 'A masterpiece!'
We all mess it up! But authority is God's idea, so it must
be good. This indepth study of a vital subject for leaders
reveals God's plan for your family, your business, your
church and your nation.
You will discover how it should work, how the devil
operates, the authority of God's Word, and much more.
360 pages.
Who's in Charge Around Here?
A condensed version of Authority in easier English,
designed for translation and for conversion to an
ebook.
Still with all the truth and revelation of the larger
book, many may prefer the easier read.
Every believer needs this!
Authority
US edition available on
Amazon:
Who's in Charge?
Authority is not the same as
power. When we confuse
them, people get hurt.
Also available on
Amazon and Kindle.


Published Oct 2019
John has taught this to pastors
for several years. It's changed
lives. Now available as a book.
Don't live with boring
church any longer!
Also on Amazon and Kindle.
The Seven Seals of the Holy Spirit
"Enough supernatural weaponry to scare us
back to Biblical normality!"
You were sealed by the Spirit. Why?
God has much more in store for us than a
promise of eternity.
His seven seals will inspire you to

grab faith
by the shoulders
and fulfil his purpose for you
and his kingdom. More
School of Healing Manual, NEW 4th Edition
Thousands in print in multiple languages, this has
changed the way people minister to the sick, with tens
of thousands healed.
New edition completely rewritten, including a new
chapter, updated teaching and Scriptures. Email us for
quantity discounts.
Bible-based, practical, & clear, includes lists of
healing and root cause Scriptures. 52 pages.
Launched July 2020
John has been working on this
for eight years.
Also available on Book
Depository, Amazon and
ebook.
Check out the reviews
on Amazon
King Solomon's Deadly Legacy
A British scientist travels to the time of King
Solomon of Israel and discovers our world is
making the same mistakes as Solomon, heading
for the same outcomes—division, invasion, and
exile.
"

A brilliant page-turner with a strong Christian
message
."
"Had to stay up late to finish."
FREE SHIPPING
UNTIL 27 SEPT!