The ministry of John & Bron Fergusson
© JF Ministries, Auckland, New Zealand. Registered charity in England and NZ.
Flies in a Window
When Wendy's 16-year-old brother falls from a fourth-
floor window in Reading, England, the verdict is
suicide. But she doesn't believe it. So was it an
accident? Or worse?
As she unravels the mystery, she finally
discovers what, or rather Who, the truth really is. 'A
gripping read.' Outstanding!'
Great gift for young adults!
So What Happened & So What Next
Essential for your handbag or briefcase, this smart,
unique, pair of follow-up booklets is for giving to new
believers.
High quality
and attractive, they use parables
and explain all basic terms. Plus they include 1/3 of
Mark's gospel. Ideal for events or outreach.

We sell
them at cost.
So What?
A high-quality, 8-page (incl cover), A5 booklet presenting
the gospel clearly and compellingly. Keep some handy!
We sell them at cost.
Shop (2)
More exciting aids to help you extend the Kingdom of God!
Prices in NZ$.
Shipping for New Zealand only
. For international orders, buy from Amazon or
email us
.
Flies in a Window
YA Fiction
Do you look at the view? Or
the flies?
Also available on
Amazon
and
Kindle
.
Follow up booklets
'Really valuable!'
Street
evangelist.
Give the first free when
you lead someone to Christ.
Give the second when they
come to church!
So What?
Thousands printed, and many
have come to Christ.

Bundle of 10 (5 each)
$20.00


Holy Fire - new updated edition!
How could a God of love invent hell?
Answer: He didn't!
Follow the fire of God in Scripture
like a detective story. Discover:
•
The two hells
•
The discriminating Fire
•
The proof of our salvation
•
The sign of the New Covenant
•
A glimpse of our glorious future!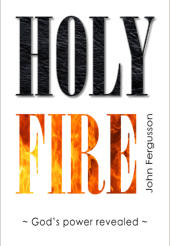 Holy Fire
Reinhard Bonnke
:
'A
treasure trove.'
KIngsway
:
'One of the more
important books we
published,'
Now available worldwide as
paperback and kindle.
Still only $20!
'Everyone must read this
book.'

Authority
'Most comprehensive', 'A masterpiece!'
Authority is God's idea but we all mess it up. Scripture
teaches how it should work. Learn:
•
God's original plan
•
How the devil stole our authority
•
The Lord's astonishing restoration
•
How to walk in his authority
360 pages.
Who's in Charge Around Here?
A condensed version of Authority in easier English,
designed for translation and for conversion to an
ebook.
Still with all the truth and revelation of the larger
book, many may prefer the easier read.
Every believer needs this!
Authority
US edition available on
Amazon
Who's in Charge?
Authority is not the same as
power. When we confuse
them, people get hurt.
Also available on
Amazon and Kindle.