Recent news
October 2019 News
Puran's school
The school we visited in Nepal in May offers
scholarships to students unable to pay. Would you
be interested in supporting them? It's an awesome
vision - excellent Christian education in a largely
non-Christian area. As it's private, it brings income
for local churches. Contact
Puran
.
Renewal in Whangarei
The Renewal weekend at Hope Whangarei drew
60 last Saturday. I spoke on the Spirit of love and
his amazing gifts. We saw many healed from bad
backs, eyes, and knees.
On Sunday, six made decisions for Christ. Praise
God! Sylvia had a bad knee. I called her up in front
of everyone, and laid hands. After a few moments,
I asked, "How is it?"
"55% better."
I rebuked the pain, and called others for a knee
clinic. Sylvia and I laid hands on them in turn. We
found chairs for Pam & Gerry who were waiting.
"You two ladies can minister together," I said.
They sat facing each other, and reached forward
to the other's knees. Five minutes later they
jumped up, pain free, grabbed each other by the
shoulders and danced together around the room!
Later, Sylvia said her knee was 100%.
Climate Change
The church has a duty to care for God's wonderful
creation. We should be leading the charge. We
also have a duty to challenge lies and obfuscation.
David Peters (I'd recommend subscribing to his
email) recently sent an excellent review, and this.
Alarming!
Seven Seals
A publisher says, "Really
beautifully done and we are
already into reading it. I love
your introduction!
Awesome covers, great finish.
Your message is outstanding."
Our team of 16 taught 1,600 people in 4 schools of
healing. We saw hundreds healed of many diseases - the
blind saw, the deaf heard and cripples walked. A flaccid
baby began moving, and many with evil spirits were set
free. Praise God!
One team member just emailed:

Getting back to church
at Mangungu [Northland], I asked, "Does anyone need
healing?" A nine-year-old girl waved vigorously. She'd limped
in with a crutch, her right ankle in bandages. I asked her to
the front, laid my hand on her shoulder, and commanded,
"Ankle, be healed in Jesus' name!" You should have seen the
smile―of surprise, pleasure, and incredulity! I took her by the
hand. "Well, let's walk." She walked normally back up the aisle!
That's why we teach healing.
Miracles in Nepal
The Lord healed over one third of those attending,
including Mani, who received a new muscle in her leg;
Tim, who'd had a bad knee for 30 years; and Michelle,
healed of a cracked bone in her back. Thank you, Jesus!
New churches in Mozambique
Last year, Andrew joined us in Nepal. He then travelled
to Mozambique and taught our school of healing in the
church of Pastor Tapiwa Manera.
The (mainly illiterate) members went to the villages
and healed the sick. They were very excited. Six gave
their lives to Christ. A month later, they opened another
church with 27 new members.
Tapiwa recently emailed, "Last week God blessed us
with two new branches in the Province of Zambézia
where 167 members gave their lives to Christ. You
taught us an effective evangelism strategy. We are
seeing the hand of the Lord."
Those who've read it LOVE it.
Several have bought copies for Christmas presents.
We have

a few still in stock

, so it's not too late!
School of Healing at Manukau
Witchdoctor saved
Joseph & Lesley Lee of Tuakau, New
Zealand, lead Pioneer Ministry. Here
is a great recent story from them.
King Solomon's Deadly
Legacy launches at Easter
To be published by Koehler Books, USA (a miracle!)
I've been working on this for eight years.
King Solomon fell into idolatry leaving a legacy of
division, invasion, and exile. His life is a red flag, for
we in the West are falling for the same
distractions. Don't we risk the same outcomes?
Opotiki School of Healing
A small but zealous group attended the School of
Healing in Opotiki at the weekend. They were
straight into the Lord's presence in worship, and
then devoured the teaching, instantly putting it
into practice. Hearing improved, back pain
disappeared, shoulders were healed, a hernia
closed up, and a lady with sore knees jumped for
joy, pain-free. By the end, ¾ of the delegates said
the Lord had healed them. Praise God!
On Sunday, another delegate reported meeting a
former friend after the school, who was limping.
Their relationship was strained. The Lord
prompted the delegate to offer offered healing.
Tears flowed, bringing reconciliation. God cares as
much about relationships.
Those who've read it
say they've been
inspired to greater
things. We've just
ordered a much larger
shipment, as they're
flying out of our store!
April 2020 News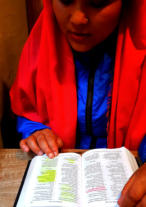 Outstanding Miracles in
Nepal
I watched this girl's withered arm grow. Her friends
crowded around, as she was well-known in the
church. She kept touching her healed hand.
This was at our third school of healing. We'd
already trained over 1,000 in two schools and seen
hundreds more healed.
Despite strikes and virus concerns, the Lord found
ways for us to continue and we finally trained over
2,000. The local pastors reported that dozens
testified to their healing on the Saturday after we
left.
Knee Clinic
Just before the lockdown, we sneaked in a weekend
teaching on the Holy Spirit in Hawera. Bron was
healed when we ministered to each other!
The girl with the Bible is a new
believer. Two years ago, a
waiter said to one of our
team, "I want what you've got."
He shared the gospel and led
him to Jesus.
On this trip he caught up with
the waiter. He had since led
his brother and sister-in-law
to Christ, and between them
all have planted two churches.
He is even building a new
facility in Chitwan!
The Power of
one
conversation
King Solomon's Deadly
Legacy arrives
Five hundred copies are currently in a container
bound for Auckland, God willing in our hands by
3rd July. If you've pre-ordered, we'll mail your
(signed!) copy then. If you haven't ordered yet, you
can here. Check out the great Amazon reviews
(scroll down to the bottom of the Amazon page).
Nepal situation
It's getting worse, with 300 to 400 Covid cases a
day, but so far only 19 deaths. Meanwhile, they've
recorded 1200 suicides during lockdown. Please
pray for them. Our current plans for November are
therefore on hold until the country re-opens.
June 2020 News