Recent news
Nepal
Sixteen head to Nepal again in November, this
time to hold four Schools of Healing. The next trip
is pencilled for 20 February – 9 March, 2020.
We don't know how much longer we'll be able
to continue these trips. The Lord always said we
have a limited window. Don't prevaricate.
Books
We received a prophecy in February that, "God is
bringing us into a new stanza." I believe it means
our focus on books will increase. A stanza is a verse
of a poem―same theme, different approach.
Books are important; I was saved reading books!
Solomon
We've signed a contract with Koehler Books of
Virginia Beach for

King Solomon's Deadly Legacy,

due
for release at Easter. It's taken nearly 8 years, but
it's a message

I believe is critically important for
today
.
Historical fiction, the book is a prophetic
warning of the impending dangers of idolatry.
Solomon fell, and Israel fell apart. The decline of
our morality matches his. Don't we risk the same
consequence?
Over the coming months I'll share excerpts and
stories. Here's how it begins.
Seven Seals of the Holy Spirit
Do you want to see the Spirit move in greater
power?
He is called the seal of our salvation:

Having
believed, you were marked in him with a seal, the
promised Holy Spirit
(Ephesians 1:13). Why? When I
checked it out, I discovered

seven reasons in
Scripture. From the seal of righteousness to the
seal of authority, each one is essential to help
us flow with the Spirit.
Every seal deeply affects
how we live and move in the Spirit of Jesus. This
teaching has the potential to launch you into a new
level of power. Excerpt.
The full-length book is planned for release at
Christmas. Order now!
Here is an excerpt:
I am tired of boring church meetings!
A few songs (some fast, some slow); the
notices; the offering (with or without music);
communion (sometimes); the sermon; a closing
song; a benediction; tea and coffee. For variety,
shuffle the deck. I've witnessed this from mega-
churches in big cities to remote house-groups in
the mountains of India. It's what we do. More
August 2019 News
October 2019 News
Puran's school
The school we visited in Nepal in May offers
scholarships to students unable to pay. Would you
be interested in supporting them? It's an awesome
vision - excellent Christian education in a largely
non-Christian area. As it's private, it brings income
for local churches. Contact
Puran
.
Don't miss
Sat 23 Nov
, 9.30am-4.30pm,
School of Healing
,
LIFE South, Manukau, Auckland
Other events.
Renewal in Whangarei
The Renewal weekend at Hope Whangarei drew
60 last Saturday. I spoke on the Spirit of love and
his amazing gifts. We saw many healed from bad
backs, eyes, and knees.
On Sunday, six made decisions for Christ. Praise
God! Sylvia had a bad knee. I called her up in front
of everyone, and laid hands. After a few moments,
I asked, "How is it?"
"55% better."
I rebuked the pain, and called others for a knee
clinic. Sylvia and I laid hands on them in turn. We
found chairs for Pam & Gerry who were waiting.
"You two ladies can minister together," I said.
They sat facing each other, and reached forward
to the other's knees. Five minutes later they
jumped up, pain free, grabbed each other by the
shoulders and danced together around the room!
Later, Sylvia said her knee was 100%.
Climate Change
The church has a duty to care for God's wonderful
creation. We should be leading the charge. We
also have a duty to challenge lies and obfuscation.
David Peters (I'd recommend subscribing to his
email) recently sent an excellent review, and this.
Alarming!
Seven Seals
A publisher says, "Really
beautifully done and we are
already into reading it. I love
your introduction!
Awesome covers, great finish.
Your message is outstanding."
Our team of 16 taught 1,600 people in 4 schools of
healing. We saw hundreds healed of many diseases - the
blind saw, the deaf heard and cripples walked. A flaccid
baby began moving, and many with evil spirits were set
free. Praise God!
One team member just emailed:

Getting back to church
at Mangungu [Northland], I asked, "Does anyone need
healing?" A nine-year-old girl waved vigorously. She'd limped
in with a crutch, her right ankle in bandages. I asked her to
the front, laid my hand on her shoulder, and commanded,
"Ankle, be healed in Jesus' name!" You should have seen the
smile―of surprise, pleasure, and incredulity! I took her by the
hand. "Well, let's walk." She walked normally back up the aisle!
That's why we teach healing.
The next team of eleven leaves on 20th February bound
for Dailek in the western hills, and Chisapani and Bangai
on the terai. Come to the Nepal Night

in

Christchurch

on
Friday February 14th.
Miracles in Nepal
The Lord healed over one third of those attending,
including Mani, who received a new muscle in her leg;
Tim, who'd had a bad knee for 30 years; and Michelle,
healed of a cracked bone in her back. Thank you, Jesus!
Check out their stories
(sorry about the quality). Our
next

Schools of Healing

are Opotiki on 8th Feb, and
Christchurch
on 15 Feb. Come and learn how to heal
others.
New churches in Mozambique
Last year, Andrew joined us in Nepal. He then travelled
to Mozambique and taught our school of healing in the
church of Pastor Tapiwa Manera.
The (mainly illiterate) members went to the villages
and healed the sick. They were very excited. Six gave
their lives to Christ. A month later, they opened another
church with 27 new members.
Tapiwa recently emailed, "Last week God blessed us
with two new branches in the Province of Zambézia
where 167 members gave their lives to Christ. You
taught us an effective evangelism strategy. We are
seeing the hand of the Lord."
Those who've read it LOVE it.
Several have bought copies for Christmas presents.
We have

a few still in stock

, so it's not too late!
School of Healing at Manukau
Witchdoctor saved
Joseph & Lesley Lee of Tuakau, New
Zealand, lead Pioneer Ministry. Here
is a great recent story from them.
King Solomon's Deadly
Legacy launches at Easter
To be published by Koehler Books, USA (a miracle!)
I've been working on this for eight years.
King Solomon fell into idolatry leaving a legacy of
division, invasion, and exile. His life is a red flag, for
we in the West are falling for the same
distractions. Don't we risk the same outcomes?
A British scientist and atheist meets Solomon through
time travel. He is challenged by Israel's love of the
Lord, but his life at home falls apart. While Solomon's
faith declines, the scientist becomes a Christian,
alarmed at the threat to our future.
Launch Team
Nowadays, authors market their own books, which
is where you come in! I want to build a launch
team and would love you to join.
There's exclusive launch team pages on our
website with news, excerpts, and information.
Here's all I am asking you to do.
•
Pray
•
Offer to read an Advanced Reader Copy, or
•
Pre-order a copy (they'll be in hardback,
paperback, and ebook)
•
Tell your friends
•
Review it on Amazon, Good Reads, etc
We'll keep you posted on what to do and when,
and how the book is going. Every time I think of a
number, the Lord tells me to think bigger.
If you'd like to help, email right away, and you'll be
on the team!
Opotiki School of Healing
A small but zealous group attended the School of
Healing in Opotiki at the weekend. They were
straight into the Lord's presence in worship, and
then devoured the teaching, instantly putting it
into practice. Hearing improved, back pain
disappeared, shoulders were healed, a hernia
closed up, and a lady with sore knees jumped for
joy, pain-free. By the end, ¾ of the delegates said
the Lord had healed them. Praise God!
On Sunday, another delegate reported meeting a
former friend after the school, who was limping.
Their relationship was strained. The Lord
prompted the delegate to offer offered healing.
Tears flowed, bringing reconciliation. God cares as
much about relationships.
Those who've read it
say they've been
inspired to greater
things. We've just
ordered a much larger
shipment, as they're
flying out of our store!
April 2020 News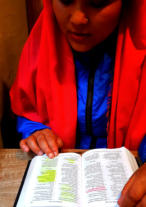 Outstanding MIracles in
Nepal
I watched this girl's withered arm grow. Her friends
crowded around, as she was well-known in the
church. She kept touching her healed hand.
This was at our third school of healing. We'd
already trained over 1,000 in two schools and seen
hundreds more healed.
Despite strikes and virus concerns, the Lord found
ways for us to continue and we finally trained over
2,000. The local pastors reported that dozens
testified to their healing on the Saturday after we
left.
Knee Clinic
Just before the lockdown, we sneaked in a weekend
teaching on the Holy Spirit in Hawera. Bron was
healed when we ministered to each other!
The girl with the Bible is a new
believer. Two years ago, a
waiter said to one of our
team, "I want what you've got."
He shared the gospel and led
him to Jesus.
On this trip he caught up with
the waiter. He had since led
his brother and sister-in-law
to Christ, and between them
all have planted two churches.
He is even building a new
facility in Chitwan!
The Power of
one
conversation